– ­All change starts with a recognition of the status quo, followed by action, says Ragnhild Janbu Fresvik, CIO at Grieg Group.
Fresvik met with Norwegian maritime- and technology leaders, and Espen Barth Eide, minister of climate and environment, at the electric ferry Vision of the Fjords, in the harbour of the small Norwegian town of Arendal.
They met to discuss the importance and necessity of escalating the Norwegian maritime sector into a green low, emission future.
The topic of the talk was the gap between ambitious goals concerning emission reduction and decarbonization and actual reality.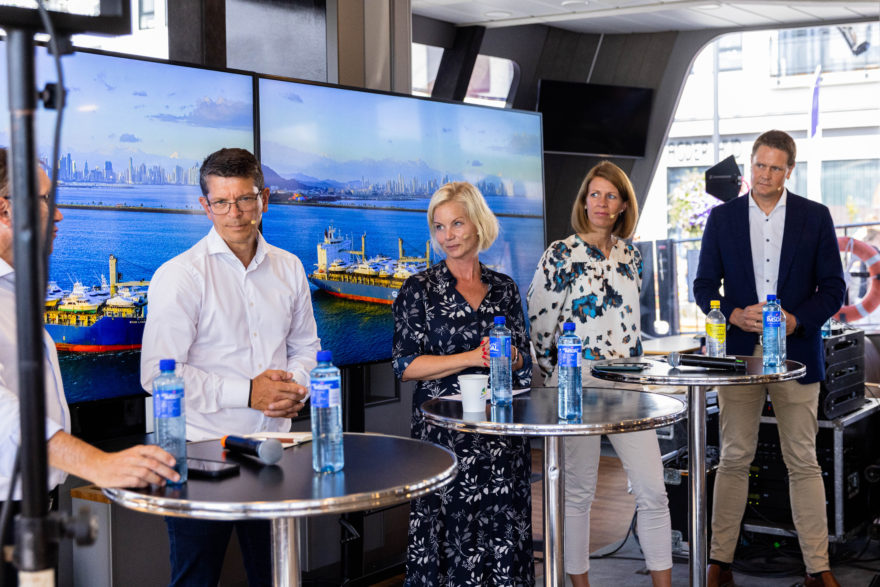 Speed up the pace
The backdrop for the panel discussion, which gathered 80 listeners from the industry, was that although Norway is at the forefront in developing a new, green technology, the pace is too slow:
– If we are to reach our goal by 2030, we are in a hurry, the panel agreed.
Present on the panel was Ivar Engan, CEO at Maritimt Forum, Siv Remøy-Vangen, CEO of Maritime Bergen, Sverre Alvik, director for reseach at DNV, Geir Håøy, CEO at Kongsberg Gruppen, Ragnhild Janbu Fresvik, CIO, at Grieg Gruppen and Harald Solberg, CEO at the Norwegian Shipowner's Association.
Although they share a common concern and enthusiasm for the future, they asked the minister of climate and environment, Espen Barth Eide, to speed up regulations and tools.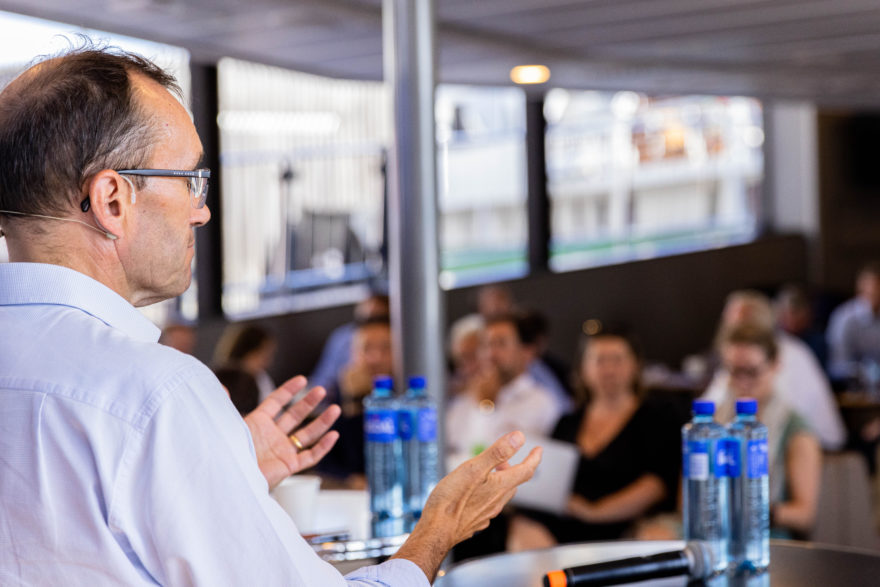 Welcomed fellow industry colleagues aboard
Fresvik asked Barth Eide to provide better framework conditions for the maritime sector.
At the same time, she underlined the importance of cooperation and partnerships across the industry for the sector as a whole to succeed and reach the goal of severe decarbonization in the maritime industry in near future.
– We know that our industry has a negative impact. We recognize the necessity to change, to take risks, and to acknowledge that technologies that contribute to decarbonization are key to our success in the future, Fresvik said.
She welcomed partners and colleagues in the industry to hop aboard and join them in Grieg's quest for a greener future.