– My colleagues are the best reward
September 29 2022
From day one, Fredrik Wilander has felt at home at his workplace. It's all about being humble and respectful, he assures.
– A former colleague of mine always talked about the «barn smell». He said that when you come to a new farm, you can feel the barn smell, and either you like it, or you don't. Of course, it doesn't smell like a barn in our office, but the idea is the same; when you come somewhere, you either get a warm, fuzzy feeling from being there, or you can feel that something is not quite right, says Fredrik Wilander (43).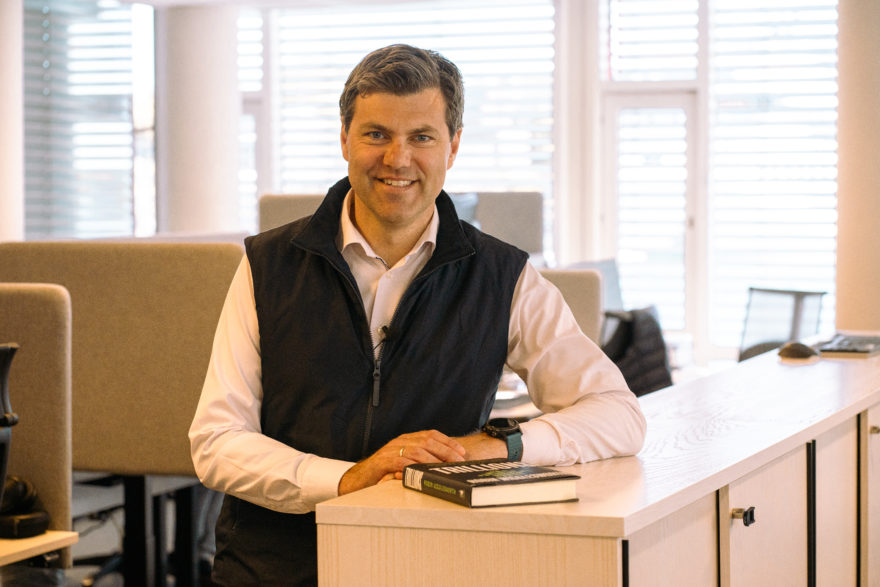 On his first day at work, the Research Director at Grieg Investor had no doubt:
– The «barn smell» was very good here, says Fredrik.
– Skilled company
The father of three from Gothenburg in Southern Sweden smiles as he glances at Grieg Investor's open office landscape in Oslo. Heads in deep concentration in front of their respective screens, quick fingers clattering on the keyboards. It's hectic but still peaceful in the bright office space at Aker Brygge.
With a doctoral degree in economics, Fredrik has built a solid career in asset management. Since moving from Stockholm to his Norwegian girlfriend in Oslo in 2007, he's worked in some of Norway's largest finance companies.
In 2019, he was employed by the company he's always regarded as a leading Norwegian financial adviser: Grieg Investor.
– I knew that it was a skilled company and that the social working environment was good. The Grieg Group also has a clear profile around sustainability and gender equality, the forty-three-year-old emphasizes.
Today, he's heading the fund selection effort at Grieg Investor by selecting global and Norwegian asset managers that they recommend their clients to invest with. The working days vary between customer contact, meetings with colleagues in the Advisory and the Research teams, and following up with existing external asset managers and potential new ones. At his desk, he operates with ten-digit numbers on his computer screen.
Competitive sport
His job is demanding, and with three children aged 9, 6, and 3, his spare time is limited. But he plays tennis and golf when he can and enjoys cross-country and downhill skiing in the winter.
There are several similarities between sports and the competitive elements that his job consists of; he reflects:
– In a way, financial asset management is like a competitive sport. We, as independent investment advisers, are not exclusive in the Norwegian market. We compete against other companies to choose the best managers. And the managers also compete against each other, Fredrik emphasizes.
One of the challenges in the job is to explain to the customers in an uncomplex way the reasons for the investment results, he thinks.
– If the investment results are exceptionally good, not many people ask several questions about it, but when the results are weak, customers need specific information about why. It's a business where it is difficult to pinpoint the reasons, if any, that stock rises or that a specific market has a substantial development, explains the Research Director. Hence it is also difficult to distinguish luck from skill in fund management.
– Customers keep us sharp
Grieg Investor's office building is conveniently located on top of a coffee shop that serves Fredrik's favorite coffee. He drinks too much coffee, the Swede admits with a smile. But coffee breaks are needed in a job with a high pace.
– We've got some of the largest and most professional customers in Norway; they are demanding but also keep us sharp. There's pressure on us to deliver a good return to our customers, in addition to often meeting short deadlines on specific analyses carried out for them, he says before adding:
– But it doesn't feel like negative stress, and the work hours are flexible, Fredrik assures.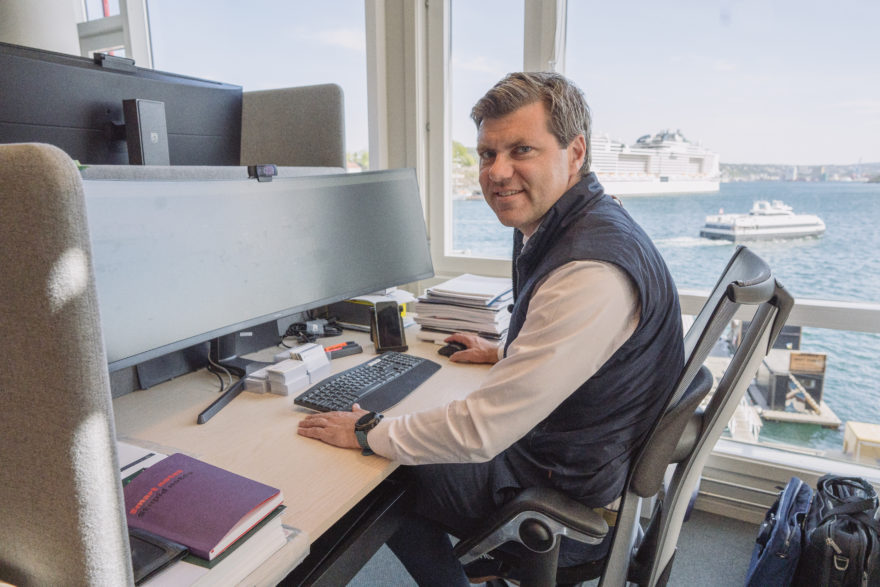 – Can't wait to get to work
–The most rewarding thing about working in Grieg Investor are my colleagues and the people I meet every day, he says.
– We're a very nice, professionally skilled group of 28 people in a close team with a lot of enthusiasm and work dedication, the forty-three-year-old says.
It's mainly the informal and relaxed dialogue between colleagues that makes him feel at home, he believes.
– People treat each other with humbleness and respect, Fredrik praises.
In addition, he thinks that Grieg Investor is a company that takes care of its employees, and it is here, together with the Research team, that he sees himself in the future.
– I feel the same as I did my first day here: When I wake up, I can't wait to go to work, and when I arrive, I am warmly welcomed. The «barn smell» is still good, he assures.
Tekst: Linn Merete Rognø / Apriil
Foto: Håvard Kroken Holme / Apriil