You must own what you do
November 16 2022
Mari Koseki is fully aware that she's not always right but dares to learn from mistakes, which is probably one of the most important qualities to have as an analyst at Grieg Shipbrokers.
– What I find most challenging about my job is that there is no right answer. As an analyst, you have to be absolutely confident in what you say although you are not hundred percent sure what will happen, says Mari Koseki.
Still, the thirty-year-old Japanese woman is passionate about shipping market analysis.
At Grieg Shipbrokers' research department in Oslo, she primarily assists shipbrokers with their cases and projects, providing market analysis and implications, which often to be presented to clients. She spends hours in front of her wide screen interpreting and analyzing the movements in the shipping market.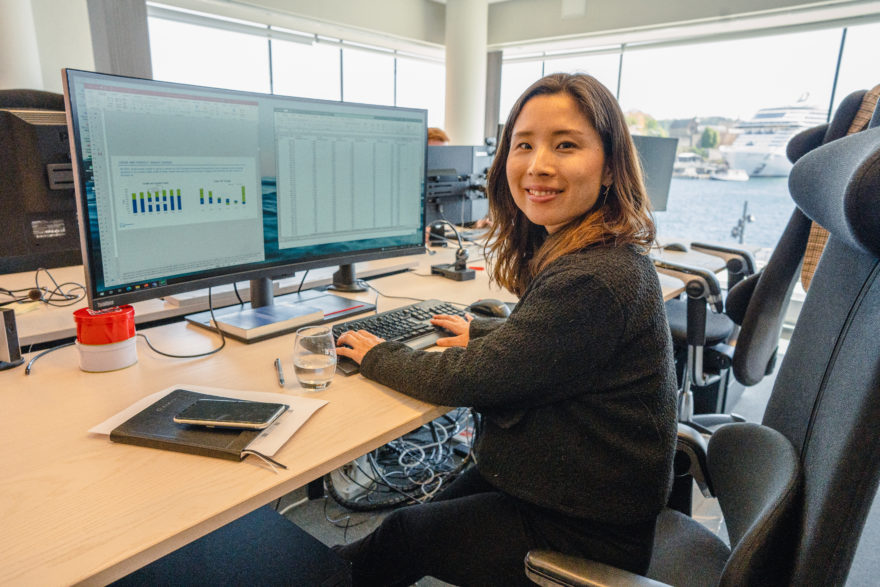 Strategic thinking ahead
Mari makes up half of the company's research team, the other half is her colleague Joachim Erlandsen. The team covers core international shipping markets within all categories of Tankers, Chemicals and Gas, and Dry Cargo.
– Shipping is very dynamic and international, and at the same time, I like to work analytically with numbers. I always need to consider what the argument is based upon, what the consequences will be, and what's going to happen. I must think ahead, Mari says and continues:
– Still, people always have different opinions and arguments. And you are not necessarily right all the time, she says and laughs, while pointing out that it can be difficult to choose what to say, based on her research.
With a team consisting of only two people, they each have a lot of responsibility for the market they cover.
– Of course, I ask questions, but we are experts in the market we cover and do not necessarily have too much knowledge in the other sectors. So, it is not like we exchange models and so on. It is quite a lot of responsibility to know that you are the one in charge of the market. And you must own what you do, she emphasizes.
Love overseas
– The first phrase I learned in Norwegian was "Ikke sant?", Mari says.
The phrase translates to the English word "right", commonly used at the end of a sentence, and indicates a need for feedback or confirmation.
– I learned that this is a very convenient phrase to use. Whenever I don't understand something, I just say "Ikke sant?", and then usually things go well, haha!
In short, love is the main reason she ended up moving from her home country, Japan, to Oslo in Norway.
– I met my husband during my study in Minnesota, USA when I was there as an exchange student. Our goal was to move and live together one day in Norway, and I thought it was a smooth transition to study and get a master's degree at the BI Norwegian business school. After being in a long-distance relationship for six years, she moved to Oslo with Peter in the summer of 2018.
A company that stands out
Mari's first meeting with Grieg Shipbrokers was when Morten Muller (the current CEO of the company) visited the company she then worked for in Tokyo. She was working for a Japanese leasing company for three years as a senior associate, executing ship financing deals for international shipping operators and owners.
During her study years at the BI Norwegian business school, she had an internship as an analyst at Grieg Shipbrokers.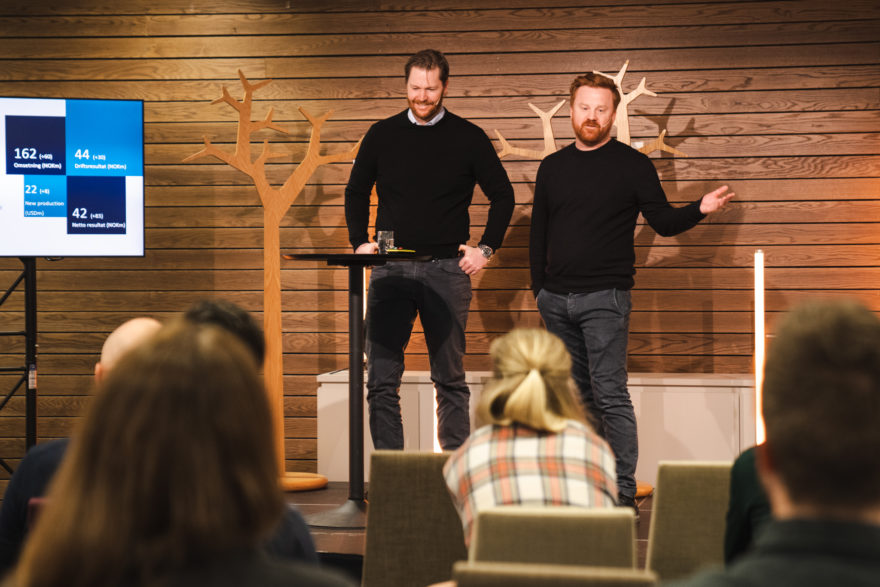 – I was always interested in the shipping industry, Grieg Shipbrokers is a renowned company with a great tradition and track record. I thought it was a great opportunity for me to start a career in Norway at the company, says Mari.
A year later, she joined her colleagues full-time at the office with an exquisite view over Aker Brygge. Working in a global business based in Oslo is quite interesting, Mari thinks. Especially in shipping.
– Norway is a small country, but when it comes to shipping, it has quite a large presence in an international business, and the country is at the center and forefront of the maritime industry. In addition to that, Norway is very good at taking initiatives on sustainable solutions in the shipping sphere, it definitely is an interesting time.
When it comes to working culture, Mari thinks Norway and Japan are quite similar in many ways yet different in some others.
– For example, I think Norwegian people work hard, and so do Japanese people. However, in my country, people do work long hours but not necessarily in an efficient manner.
–The main difference between Norway and Japan is the flexibility at work, she believes. With the flexibility, it's easier to adapt your everyday life outside work, and that way, it is more sustainable in the long-term, Mari says.
«Å, så koselig!»
For Mari, the flexibility will probably come in handy in the upcoming months and years ahead, as she is expecting her first child.
Joachim was the first colleague she revealed her pregnancy to.
– He was happy and told me: «Å, så koselig!», says Mari, meaning «Oh, that's nice!»
–Then, I really knew that I'm working in a good company. When I told my other colleagues, they were all so supportive, she adds. – I am not so sure if such positive feedback is what to expect if I worked in Japan. So, I was very positively surprised to learn how my colleagues responded.
– And in Norway, you are expected to return to work after maternity leave, it's not like in Japan where you almost have to quit work for good when you become a mother. So, I feel assured knowing there is a place for me to come back to.
Learning by doing
– How will you embrace the role as a parent, you think?
– Hmm…I might have to read up on books and articles on how to raise a child before I can answer that question, haha!
Obviously, her analytical skill and humble self-awareness are not mere working tools, they are embedded in her:
– There's no right answer or a perfect recipe on how to be a parent. You have to try and learn as you go, just like my job, she concludes.
Tekst: Linn Merete Rognø / Apriil. Foto: Håvard Kroken Holme / Apriil